Rains Bring Water-Year Levels Near-Normal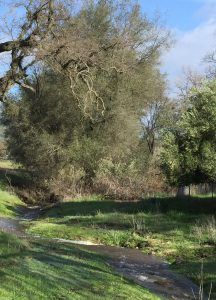 Weekend Storms Get Local Creeks Flowing

View Photos
Sacramento, CA — The back-to-back storms that chased through the Mother Lode this past weekend left an impressive amount of precipitation during their short visit.
"It looks like between four to six inches in some of the areas in Tuolumne County all the way down into the foothills," says National Weather Service meteorologist Jason Clapp. "That's good…probably getting close to normal for the water-year…but the snow level is still well-below, because these last systems were mainly warmer systems and higher snow [elevation] levels." While the rainfall levels have been high, California relies on the snowpack to melt late into the spring and early summer, to provide much water supply. As far as how the recent storms affect the drought, he says, ruefully, "It's not going to do much…it helps, but a drought is obviously long-term, so we are going to need more of this kind of stuff to keep that drought waning."
For the next workweek, Clapp says, "We'll build high pressure and continue to dry out. Maybe in another week, we'll get a little skirting of [precipitation], but it's not very impressive." The spring-like temperatures on the way, while pleasant, obviously do not bode well for the chances of increasing the snowpack.
According to California Dept. of Water Resources data for Sunday, Feb. 8, New Melones Reservoir, at 577,114 acre-feet, added 11,665 acre-feet since last Thursday, before the rains; Don Pedro, at 840,318 acre-feet, added 9,400 acre-feet.