Help Still Needed To Nourish Mother Lode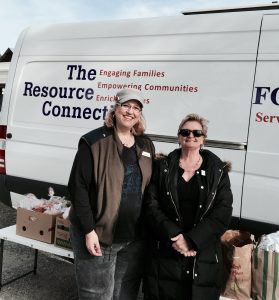 Resource Connection Food Bank Coordinator Tina Mather and Outreach Specialist Bonnie Acosta

View Photos
San Andreas, CA — Times might be getting better across the country but in Calaveras County, Resource Connection Food Bank currently estimates that approximately 15 percent of the population — and one in every four children — are getting food from its main location and outreach pantry operations.
"Before the recession hit, we averaged about 71 families a month through the food bank, and now, we're at 850 and 925 families a month," says outreach coordinator Tina Mather. "It's down [this year] from over a thousand families a month. So, things are getting better. That's the good news. The bad news is that there is still a large need."
She adds, "We're seeing underemployed, unemployed…people on disability… retirees…veterans. We're seeing people with maybe just one income, maybe where a mom is staying home with the kids. It's every walk of life."
Enter The Food Fairy
In addition to its main food bank in San Andreas, Resource Connection works in tandem with local churches and senior centers to provide community pantries at more than a dozen locations each month. Additionally, a mobile pantry, affectionately dubbed "Tink 1" (short for "Tinker Bell"), made possible through a grant last year, now sets up shop once a month in Murphys, at Railroad Flat Elementary, West Point Community Hall, and across from Copperopolis Armory.
This past Thursday, when Tink 1 made its monthly stop in Copperopolis, myMotherLode.com stopped by to visit. "Today, we have bread, bell peppers, apples and cauliflower," Mather proudly pointed out, as part of the food bank's commitment is to provide fresh produce, whenever possible. Ready-packed grocery bags stood by, filled to the brim with dry goods like canned tuna, baked beans and canned tomatoes, packaged pasta, granola bars and snacks. "It changes every time and depends on what we have available," says Mather, who estimates that, by itself, the mobile pantry services between 120-150 families per month who might not have the means to make it to the main food bank location.
The mobile pantry serves anyone who is income-eligible and a resident of Calaveras County. "They establish, proof of income with us either at the food bank in San Andreas, or on-site," explains Mather. The process is simple by design. Individuals and households who are 185 percent of the poverty level and under are eligible for food bank assistance. Resource Network Outreach Specialist Bonnie Acosta, who is also on-site, chips in to explain that, for example, a family of four with two adults and two children and an annual total income of $23,850 would qualify.
Outreach For Food Supplies And More
According to Acosta, the information they gather to determine eligibility and to make further aid referrals includes household details, including members' names and dates of birth. "We make sure that they have Medi-Cal or another form of insurance and if they don't…we have them sign up. If they don't have food stamps, we help them sign up."
Mather says that The Calaveras Food Project, which she spearheads, is helping make a dent in gathering needed food supplies for the county's less fortunate residents. She is now seeking more volunteer partner-leaders to, every other month, round up small food donations from friends, family, co-workers, and others. She elaborates on ways to build a partner-group: "If you belong to a club, [enlist] some club members…if you go to the gym, some [friends] you work out with… get them excited about donating food. It's just one bag of food from each [person] every other month, six times a year."
Bag by bag, Mather states, food donations through these simple partnerships are helping make a difference. "When you shop for your family, throw another couple of extra items in the cart. In two months, you hardly even notice that you've shopped for somebody else — somebody who can't shop for themselves," Mather says. "Then, as a partner-leader, you gather up food from everybody in [your] partnership and bring it to the food bank, once every other month." For more details on food bank operations, volunteering and to support the Calaveras Food Project, call Resource Connection Food Bank, weekdays from 9 a.m. until 4:30 p.m., at 209 754-1257.