More Time To Vote By Mail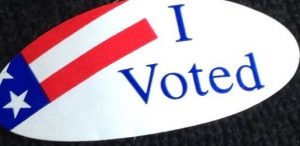 I voted sticker

View Photos
Sonora, CA — Just like with taxes, the dated postmark will be the difference between your vote counting or not when you vote by mail.
An election law that went into effect this month has changed the deadline for vote by mail ballots.  All mail-in-ballots must now be post marked by the day of the election to count.  Before, the ballot had to be in the hands of election officials by election day.  Some of the positives, according to Tuolumne County Election official Debbie Bautista: "one, it will give a longer time for people to mail in their ballots; number two…people who haven't mailed in their ballots — instead of rushing to a polling place on election day — they can rush to the post office and drop it off."
In the election this past November, 13,481 ballots were cast by mail.  Of those, 80 were not counted, according to Bautista, because they came in the mail to her office the day after the election.  Now, arriving votes that are postmarked on election day will count. Looking back, Bautista says the new law might have changed the outcome of some of the close races.  Does she think this new law will increase voter turnout in the state?  "I don't think so," she says. "I mean, I think the people who are going to vote by mail are going to still vote by mail.  I think the people who fill out their vote-by-mail on election day will now, just instead of going to a polling place, go to the post office. So, I'm not sure that will generate necessarily more votes."
One thing the new system will generate is a delay in the results, as ballots could keep coming in days after the election.  The state has pushed back the deadline for counties to certify elections by three days to help with the time crunch, according to Bautista.  However, with voting by mail becoming more popular in the county — 80% of ballots were cast by mail in the last election compared to 20% at the polls — she asks voters to get their ballots in the mail as early as possible.