Closures In Honor Of MLK Day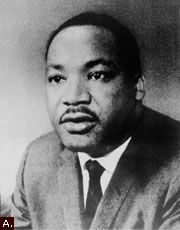 Martin Luther King Jr.

View Photos
Sonora, CA — Most government offices, including schools are closed in honor of the Martin Luther King holiday, but all national parks are open, and there is free admission.
This includes Yosemite National Park where the $20 admission fee is dropped today in honor of the holiday. Meanwhile, closed today are banks, the post office and most city, county, state and federal agencies.
Governor Jerry Brown issued an official state proclamation last week in honor of King. It reads as follows:
"Martin Luther King Jr. had a dream, a dream we can still see vividly when we revisit the most famous of his many timeless speeches. His vision of a world free of hatred and injustice has changed the face of American society and continues to inspire people around the world.
This year, we celebrate not only Dr. King's life, which began on this day 86 years ago, but also the 50th anniversary of the Selma to Montgomery March, in which he led hundreds of protesters for voting rights on a 54-mile slog, through rain, mud and communities hostile to their cause, all the way to the steps of the Alabama state capitol. The peaceful marchers had faced brutal force and mass arrests, but these insults only strengthened their resolve. The world will never forget the courage and dignity of those who followed Dr. King on this march, their strict adherence to his principle of nonviolence even in the face of barbaric treatment, nor their influence on the history of a nation that, just a few months later, would see the Voting Rights Act signed into law by President Johnson.
Today, let us reflect on the words and deeds of Martin Luther King Jr., and consider what each of us can do today to help keep his dream alive."