Final Bond Funding for Columbia College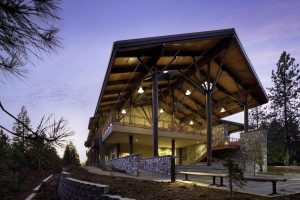 Columbia College Sugar Pine Building

View Photos
Columbia, CA – Measure E money has brought major upgrades to Columbia College and a new report outlines how the dollars continue to be spent on improvements.
The 9th Annual Report from the Citizens' Bond Oversight Committee's was released at the Yosemite Community College District's board meeting this week.  The report outlines how the $326.1 million Measure E bond money has been spent from July 2013 to June 2014.  Voters passed that bond in 2004.
In total, Columbia College received more than $52 million of those bond funds.  Some of the major projects funded include the Laurel Building housing the Child Development Center, the Sugar Pine building for science and natural resources studies, and the Public Safety Center encompassing the firehouse and campus police.  Currently, remodeling work continues on the second floor of the Manzanita building, which houses student services and administration offices, with the project slated to be completed this summer.  In addition, work has continued on the three-phase roadway repair projects.  Already parking lots have been repaved and moving forward sidewalks will be added to the campus along with continued road repairs.
Columbia College President Dr. Angela Fairchilds says the next step will be, "With the residual funds that we'll have remaining, we'll be going back to our facilities master plan and looking at the projects that were not initially allocated funds.  We'll try to cover some of those needs with the tail end of the funds."
Dr. Fairchilds was not sure which projects or what amount might be left over from the bond funds.  District officials say the bond money has been spread between Columbia College, Modesto Junior College, and use to increase access to educational opportunities in outreach areas.  Click here to view the full report.