Probable Burn Ban This Weekend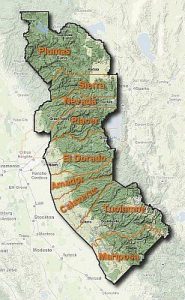 CARB Air Basin Map`

View Photos
Sacramento, CA – A series of consecutive No Burn days may be getting some Mother Lode residents antsy, as this week, an apparent escape debris burn caused an earlier reported small acreage fire. As the local air quality boards look to the state to determine burn days, myMotherLode.com asked the agency to weigh in on local Burn Day probabilities ahead.
For the Mountain Counties-South region, which includes Tuolumne and Calaveras counties, conditions continue to look unfavorable to burn for the next 96 hours, according to Stanley Young, director of communications for the California Air Resources Board (CARB).
Young says, "I understand that it's been pretty still and that there are low clouds and some patchy fog and that's generally an indication that the air is not moving." Elaborating, he further explains, "A lot of what we look for is what we call vertical mixing…and a lot of times when the air is still and there is a temperature inversion, it's basically is like putting a lid on the air. So that what is bad at ground level will stay there, and typically, we have to wait until that condition changes before we allow burning.
"This has been a problem throughout most of the northern part of the state, frankly. San Francisco, the Bay Area has had No Burn – I mean no fireplace burning — for days and days. It…often happens in the wintertime."
Although the next three days look unfavorable, according to agency models, Young says that a favorable wind coming down might be all it might take to bring about a better weather situation for burning.
In making its Burn or No Burn determinations, temperatures and levels of ozone and particulate matter are all considerations, according to Young, and, in some cases, when there is a lot of dust in the air resulting from winds. "We want to make sure that whatever we do put into the atmosphere that it does not make the current situation any worse," he states. "So if there is some leeway, you know, and some margin to burn so that it won't negatively impact what's in the air, then we make the call and allow for agriculture and added burning."
A reminder: burning on No Burn days is a misdemeanor violation. According to Cal Fire, decisions on fines are under the jurisdiction of the Pollution Control Board.