Climb Brings Spotlight To Yosemite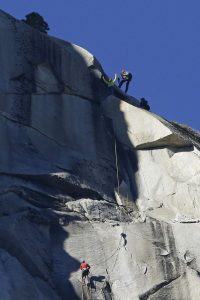 Near the summit of the Dawn Wall

View Photos
Yosemite, CA — The two climbers that scaled the Dawn Wall of El Capitan are bringing worldwide attention to Yosemite National Park.
Kevin Jorgeson and Tommy Caldwell even received a congratulatory message from President Obama via social media. It stated, "You remind us that anything is possible." Earlier this morning the duo met with reporters in Yosemite. After 19 days on the mountain, Caldwell's voice was hoarse, but expressed happiness that the climb has brought the sport renewed interest.
"There's climbers out there doing this kind of thing, maybe on a slightly smaller scale, all the time," said Caldwell. There's tons of extraordinary climbers out there. We're just two people that did it in such a way that we got noticed."
While Caldwell resides in Colorado, and Jorgeson in Santa Rosa, you can expect that they'll be back in Yosemite at some point soon down the road.
Caldwell added, "I crave Yosemite like I crave food or water. I think I'm going to be coming here my whole life. As far as big climbing objectives like the Dawn Wall, I might scale it back a little bit for a while. I think I aged about 50 years."
Caldwell and Jorgeson are the first to scale El Capitan's Dawn Wall route using only their hands and feet, along with their safety rope. Caldwell led the way for most of the climb, and Jorgeson followed behind.