Skyline Finalizes Bear Valley Purchase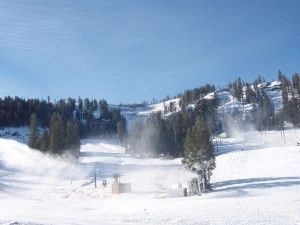 Bear Valley Mountain

View Photos
Bear Valley, CA — The company purchasing Bear Valley Resort has received its permit from the U.S. Forest Service, which is the final step in taking over the operations.
Bear Valley Resort was purchased by Skyline International Development, Inc., a Canadian based company that specializes in hospitality resorts. The purchase of Bear Valley also includes two approved master plans for the ski area and village, which Skyline hopes to execute in the years ahead. It includes the construction of more ski lifts, condos, and a new village core.
The 1,700 acre Bear Valley ski area currently includes nine ski lifts, a 2,000 stall parking lot, and a 40,000 sq. ft. mountain base lodge.
"I strongly believe that we have acquired one of the most beautiful properties in Northern California and we cannot wait to bring the full experience here," says Skyline CEO Michael Sneyd. "We are pleased with this addition to our ever-growing hotel and resorts portfolio. We look forward to providing an exemplary standard of hospitality service to Bear Valley."
In addition, Skyline announces it has entered into an agreement with the Bear Valley Mountain Cooperative, a non-profit group that was formed in 2013, around the time the resort came up for sale. The group will help raise money for projects, and sell memberships.
Bear Valley was previously owned by Dundee Resort Development. The sale figures were not disclosed.