Tuolumne County Finalizing Legislative Platform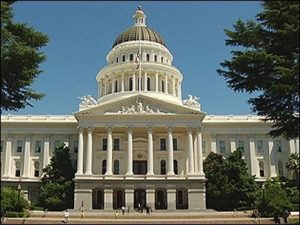 California Statehouse

View Photos
Sonora, CA — The Board of Supervisors discussed a wish list for state and federal lawmakers.
This week the Board took time to discuss the 2015 Legislative Platform. The final document will be approved at a meeting next month.
The Supervisors expressed a desire to keep several items that are on the 2014 Legislative Platform. They include, but are not limited to, streamlining the CEQA and NEPA process for development projects, relax CEQA requirements for minor roadway projects, changing prevailing wage requirements, and repealing the SRA fire tax.
The Supervisors expressed an interest to add items related to protecting against the state's new groundwater requirements, increase state government transparency (specifically related to agencies with regulatory power), pursue legislation to help acquire unused AB 900 jail money, and to stay aggressive regarding the future allocation of California water bond money.
County Administrator Craig Pedro took notes of the Supervisors wishes and will use them to complete a final legislative platform.