Waterfalls Booming In Yosemite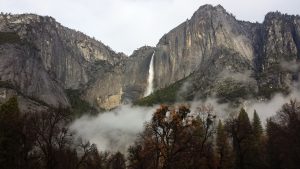 Upper Yosemite Fall

View Photos
Yosemite, CA — It has been a beautiful sight in light of the recent drought.
Following this week's significant rainfall, the waterfalls are flowing in Yosemite National Park. Popular attractions have been Yosemite Falls, Bridalveil Fall and Cascade Fall. Yosemite Spokesperson Scott Gediman says he hopes the falls will continue to flow for at least the next couple of days. It was a warm storm system that passed through Yosemite National Park, which brought rain and fog to Yosemite Valley, rather than snow.
"The rain is wonderful, we wish there was more snow, but we'll take what we can get," says Gediman.
The waterfalls are expected to dissipate by this weekend. The waterfalls are typically at full force during the early springtime, when the winter snowpack is melting.