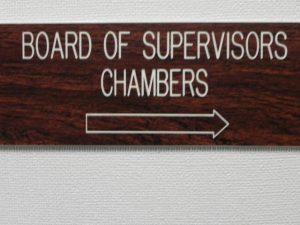 Tuolumne County Board of Supervisors Sign

View Photos
Sonora, CA – Tuolumne County Supervisors voted to give more time for a possible resolution between parties involved in a gun range dispute in La Grange.
The board voted unanimously to reschedule a public hearing on whether to issue a Conditional Use Permit for an existing shooting range in the 10000 block of La Grange Road.  The applicants are Timothy and Joan Diestel.
As previously reported, the range had been operational, and used as a weapons training school, but the owners did not have the proper county permits.  Community Resources Agency Director Bev Shane told the Board a representative of the applicants contacted her on October 16 and asked for more time.
Shane says, "He stated that his clients were working with the opposition to try to reach accord.  He said that they would like to have more time to address the neighbor's concerns and ask that your board continue consideration of this item to give them that time."
The Board granted that request and scheduled the public hearing for January 20, 2015 at 1:30 p.m.
On January 20th there was no public hearing because the applicant withdrew their application. The Weapons Training School, which taught at the shooting range, posted a  Facebook update on March 9th 2015 states "Thank you to all of our supporters in our battle over the private range. We have closed that location but actively looking at options for future tactical classes." Some classes are held at a local Gun Club in Jamestown.