Fire Damages Structures On Bald Mountain Road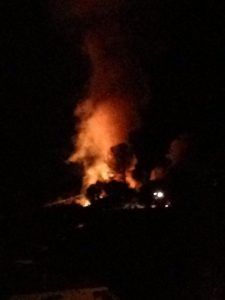 Fire in Sonora
Sonora, CA — At least two homes were damaged in a fire overnight in the 500 block of East Bald Mountain Road.
CAL Fire confirms that a structure was fully involved when first responders arrived on scene. It also damaged a second home, and some nearby vegetation. The fire is in the City of Sonora jurisdiction. We contacted both the City of Sonora Fire Department and the Sonora Police Department this morning asking if anyone was injured as a result of the blaze. Both agencies said there was no one available that can comment at this time. It's also unclear how the fire started.
We'll pass along more information on this breaking news as it comes into the news center.
A special thanks to community news partner Lori Cone for sending in photos. Pictures can be e-mailed to news@clarkebroadcasting.com.