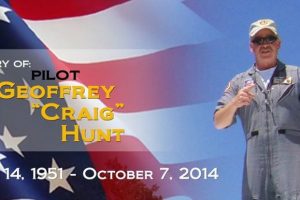 Pilot Geoffrey "Craig" Hunt

View Photos
San Jose, CA – Firefighters will pay their last respects to air tanker Pilot Geoffrey "Craig" Hunt next week.  Hunt, 62, from San Jose was killed October 7 after his S-2T air tanker crashed into a canyon wall while fighting the Dog Rock Fire in Yosemite National Park.
Cal Fire will hold a celebration of Hunt's life on Tuesday, October 21 in San Jose at 10 a.m. at the Church on the Hill, 500 Sands Drive in San Jose.  The memorial service will include full Line of Duty Death fire service honors.
One of Hunt's daughters, Sarah Hunt Lauterbach has released this statement, "My dad died a hero.  There was not a day that went by that I didn't talk to my dad."
Hunt was a veteran pilot with DynCorp International of Virginia.  He had flown for Cal Fire the past 13 years.  Cal Fire released this information on Hunt's background:
Hunt was born October 14, 1951, in Richmond, Indiana.  He is survived by his wife, Sally, who he married in September of 1975, and his two daughters, Nancy Hunt and Sarah Hunt Lauterbach.  Hunt served as a US Navy P3 pilot from 1975-1984 and was in the reserves for 20 years.  Hunt earned a Master's in Business as well as in Biochemistry and was a chemistry teacher in the off-season at the University of Santa Cruz.  He had a love for flying, golfing, fishing, hiking, bird watching, scuba diving, math/sciences, teaching, and dogs.
Cards can be sent to the family in care of:
The Hunt Family
C/o CAL FIRE Firefighters Local 2881
1731 J Street, Ste. 100
Sacramento, CA 95811
In lieu of flowers, donations may be made to:
G. Craig Hunt Memorial Fund
Ashville School
360 Ashville School Road
Ashville, NC 28806
Cal Fire says this fund will be designated for scholarship and athletics at the Ashville School.  Contact: Tom Marberger at (828) 254-6345 ext. 4081