Visitors Bureau Recognition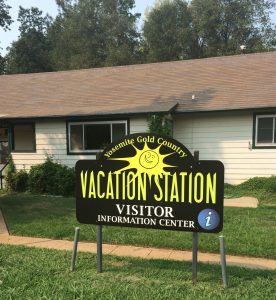 Tuolumne County Visitors Bureau

View Photos
Sonora, CA — The Tuolumne County Visitors Bureau report to the Board of Supervisors was heartfelt as they wrap up a difficult year to attract visitors and say goodbye to the retiring Executive Director. Tourism revenue for the county was just under $191 million up $10 million from the previous year, the figure does not include casino revenue.
Nancy Sikes, Executive Director for the Tuolumne County Visitors Bureau noted the challenges of fires and the drought. She also mentioned the loss of the Strawberry Music Festival, "We hope it will return," she said.
Director of Sales and Marketing, Lisa Mayo, provided an overview of the Visitors Bureau projects. Mayo displayed the gold ribbon that Tuolumne County's State Fair exhibit won. The theme was "From our county to your table," Tuolumne's exhibit included a table made from wood burned by the Rim Fire provided by Sierra Pacific Industries. Another marketing project "Follow me to Tuolumne" promotes pronouncing Tuolumne correctly. The Visitors Bureau provided license plate frames with the slogan to the board members.
At the end of October, Sikes will retire after 26 years of being with the Tuolumne County Visitors Bureau. The Board added an new agenda item during the meeting to recognize Sikes for her service. Supervisor Randy Hanvelt said, "We had to do it as a subterfuge in order to get her here." Supervisor Even Royce read the Certificate of Recognition thanking Sikes for her 26 years of service during which revenue from the Transient Occupancy Tax, a major source of county funding from visitors, more than quadrupled.
Lisa Mayo will take over as Executive Director in November.