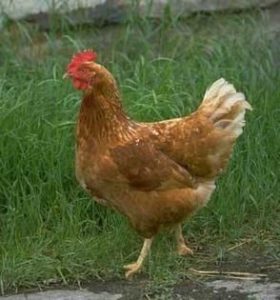 A Chicken

View Photos
Sonora, CA — After a back and forth debate, a proposed ordinance dealing with chickens in residential areas has passed an early hurdle.
The Tuolumne County Board of Supervisors voted 4-1 to ask the Planning Commission to review a proposed ordinance change that would allow property owners in areas zoned R-1 to raise chickens. The ordinance would allow up to two chickens to live on parcels under ½ acre, four chickens on parcels ½ -1 acre, and six chickens on parcels over an acre. There would be several provisions, such as having them enclosed in a coop, etc. The rule change could impact up to 17,000 parcels in the county. There was a similar ordinance recently approved in the City of Sonora.
District Four Supervisor John Gray, who lives in Pine Mountain Lake, was the lone Supervisor in opposition to moving the legislation forward. "What we're doing here, is creating a nuisance, and a problem, for thousands of people that aren't experiencing it right now. I have animals running through my neighborhood, daily. I don't want them to stop, and if someone puts a chicken coop next to me, those animals are going to stop, spend more time, and cause me more problems."
District Five Supervisor Karl Rodefer noted that while 17,000 parcels seems like a lot, individual Homeowners Associations, such as Pine Mountain Lake, could set their own rules.
District Three Supervisor Evan Royce added that he's raised chickens throughout his life, and compared it having other common pets, like dogs, cats or even parrots. "I think if you have a small number, and you have provisions, it's mitigating the bad impacts that you can have," said Royce. "I'm very much in support of allowing people to have a small amount of chickens, and I think it's nice to allow people to grow their own food, and be a little more self-sufficient."
County Agriculture Commissioner Vicki Helmar voiced sharp criticism about the proposed ordinance change, noting that there is already zoning in other areas of the county allowing for poultry. She said allowing for poultry in areas under an acre, managed by people unfamiliar with health liabilities it can pose, increases the risk of avian diseases.
In the end, the Supervisors voted 4-1 to send the ordinance change to the Planning Commission for review, and then the Board will have a final say before its implemented.