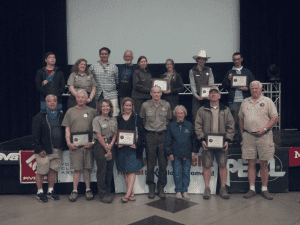 Group photo of the Yosemite National Park volunteer award recipients with park leadership at the award ceremony on National Public Lands Day, Saturday, September 27, 2014.

View Photos
Yosemite, CA — Yosemite National Park took time to recognize volunteers for all they do in the Park.  At the recent Fifth Annual Volunteer Awards Ceremony,several were honored for their work.  Park officials report on average, each year the Park has over 10,000 who donate over 176,000 hours of their time.
"Volunteers are an integral part of Yosemite's preservation and protection.  They repair trails, clean roadways, assist visitors, survey wildlife, patrol camps, and do innumerable others important jobs that all help to preserve the magic of Yosemite National Park," said Don Neubacher, park superintendent.  "It takes incredible people to provide this level of exceptional volunteer service and at Yosemite we are very thankful for their contribution."
Here is the Park's list of volunteers who received this year's awards:
Individual Volunteer Award
Larry Keene, Volunteer Desk Officer Program Supervisor.  Larry has been volunteering in Yosemite's Desk Officer Program for several years, and this year took on the added role as supervisor for the position.  The Desk Officer Program assists the park's law enforcement staff with roadside assistance, taking accident reports, traffic management and more.  Larry was nominated for his cheerful attitude, attention to detail, and excellent support for his staff.
Individual Youth Volunteer Award
Grant Travers, Volunteer Groundskeeper.  Grant began volunteering at Yosemite in spring of 2013, taking care of the grounds in El Portal.  The improved appearance of this area was immediate, as Grant picked up trash, mowed lawns, trimmed back hedges, and generally spruced up administrative and residential areas.  Grant was nominated for his excellent work ethic, constant willingness to assist where needed, and high quality of work.
Enduring Service Award
Julie Schuller, Pioneer History Center Volunteer.  Julie has been volunteering at the Yosemite Pioneer History Center for over 22 years.  She greets visitors daily in the Wells Fargo office, selling tickets for the stagecoach rides and regaling audiences with stories of Yosemite's past.  She was recognized for her enduring commitment to sharing Yosemite's history.
Group Volunteer Award
Breakwater Church, River Cleanup Project.  For over a decade, the Breakwater Church of southern California has been doing a "Mighty Merced River Cleanup" each year, bringing 50 people of all ages to the park to snorkel, wade, and swim the length of the Merced River through Yosemite Valley, collecting trash that gets washed into the streambed throughout the year.
Youth Group Volunteer Award
Parks in Focus, Invasive Plant removal project.  The Parks in Focus group is a partnership between the Udall Foundation, the Boys and Girls Club of the Peninsula (Bay Area), and the National Park Service.  Each year dozens of middle school youth come to the park to explore nature through photography and perform service work removing invasive plants.  The group's leaders instill an appreciation for the natural world while engaging the youth in important work for the park.
Supervisor of Volunteers Award
Ninette Daniele, Wildlife Biologist.  Ninette supervises interns, volunteers, and youth groups in the parks aquatic research and monitoring projects.  She has made a special effort to engage people of all ages in "citizen science", helping them to learn about the science going on in Yosemite while making it possible to accomplish park goals through volunteer support.  She has been very successful at mentoring future park scientists.
Yosemite Volunteer Program Award
Camp Host Program.  Yosemite National Park's 13 campgrounds serve thousands of park visitors with the assistance of over 60 volunteer camp hosts each year.  These hosts are critical in welcoming campers, providing information, protecting wildlife, responding to late-night emergencies, and their support of paid staff.  The Campground staff is recognized for their well-organized program, supporting their volunteers, and providing meaningful work.
Facelift Volunteer Award
Anders Ourom, Facelift Camp 4 Host.  Anders has been part of the core group of Yosemite Climbing Association volunteers who help to organize and manage the annual Yosemite Facelift.  During the event, he serves as the Facelift camp host in Camp 4.
NatureBridge Stewardship Instructor of the Year
Lisa Ribaric, Instructor.  Lisa guides NatureBridge students throughout Yosemite, helping them to learn about natural environments and their place in the world.  She uses volunteer service as a tool to engage them in park management issues and provide a way to give back to the park.