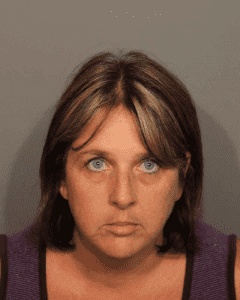 Cheri Azevedo

View Photos
Arnold, CA — Two employees at the Arnold branch of Rabobank bank have been arrested on embezzlement charges.
Calaveras County Sheriff's investigators say 53-year-old Teresa Bertolino of Avery and 44-year-old Cheri Azevedo of Murphys stole more than $62,000 dollars in a check-cashing scheme.
"It involved them writing personal checks or deposit slips to each other's cash draws," says Lt. Chris Hewitt. "Cash would be paid out to them, but the checks or slips would not be submitted to the bank for processing."
The thefts happened over a nearly two-year span and included ATMs.  The bank's manager was alerted to the thefts via an email.
"She received an automated email from an ATM that funds were low in the machine and it had recently been filled," explains Hewitt.
The two wrote more than 33 checks according to Hewitt with Bertolino stealing $26,360.16 and Azevedo taking $36,458.95. The two were arrested at their homes on September 23.