Governor Issues Emergency Declarations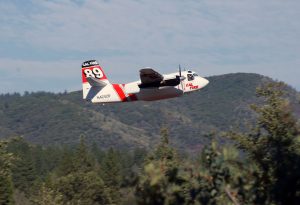 Cal Fire Air Tanker

View Photos
Sacramento, CA — Governor Jerry Brown is freeing up additional funding to help battle wildfires across the state. Last night Brown signed Emergency Declarations for El Dorado and Siskiyou Counties.
CAL Fire reports that there are 11 notable fires burning, as of this morning. The King Fire near Pollock Pines has burned 70,994 acres and its only 5% contained. Over 2,100 people remain evacuated.
The Courtney Fire in Madera County is 320 acres and 80% contained. All evacuation orders have been lifted. Over 50 structures were destroyed.
The Boles Fire near the City of Weed is 375 acres and 65% contained. 1,000 homes remain threatened and 150 have been destroyed.
The Meadow Fire in Yosemite National Park is 4,772 acres and 80% contained.
CAL Fire reports the weather is expected to turn in favor of firefighters today, with temperatures 15 degrees cooler in some areas. Isolated rain showers are also expected in northern California.