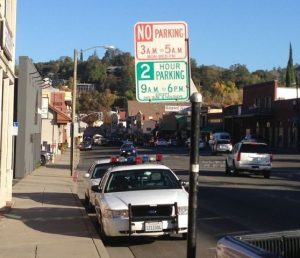 Parking Sign In Downtown Sonora

View Photos
Sonora, CA — The City of Sonora has approved the first step toward changing the city's parking laws. At the Sonora City Council meeting on Monday the four new regulations had their first reading. The new regulations involve when a vehicle in Sonora can be towed or fined due to; emergency and event traffic situations, repairing a vehicle, storage and parking of the vehicle, or vehicles parked with for sale signs.
The new ordinance proposes to make it illegal to use any City street, public City parking lot, City alley, City right-of-way, or business location (with out the owner's approval) for vehicle repairs, except in an emergency. The final resolution will include an amount of the fine for the newly proposed violation.
The ordinance proposes a fine if a vehicle is on any City street for more than 72 continuous hours. The ordinance would make it illegal to park, keep, maintain, or store any vehicle, on any City street, City alley, public City parking lot or City right-of-way and adds that "the time shall not reset" as a result of the owner moving the vehicle to another location within the City to evade the Ordinance. The ordinance also gives the City the right to fine and tow any trailer on a Sonora street for more than 12 hours. It would also make it punishable for a vehicle which is six feet tall or taller to be within 100 feet of any City intersection. Specific exceptions include; loading or unloading of passengers in under three minutes, unloading freight in less than twenty minutes, or if the owner of the property has obtained an encroachment permit. Vehicles in violation may be removed and the amount of a fine has not been set yet.
Another proposed regulation deals with where a car can be parked when the owner wants to sell it. The ordinance says a vehicle or vessel can be displayed as for sale at the residence it is registered at. The ordinance clarifies that vehicles not registered to the owner or renter of a property cannot be posted for sale unless the owner is licensed and the location is properly zoned. In addition, if a licensed owner gives permission and has a location where vehicles can be sold, a vehicle for sale by a private owner may only be displayed for 72 hours.
The ordinance also specifically allows police to place signs and remove a vehicle in an emergency situation and when a vehicle is likely to prevent a public or private event. Temporary signs are to define where the operation, parking or standing of vehicles is prohibited.
The first reading of the ordinance was approved, at the next City of Sonora meeting a second reading also has to be approved by the Sonora City Council.