Update: Widespread Power Outages Throughout Mother Lode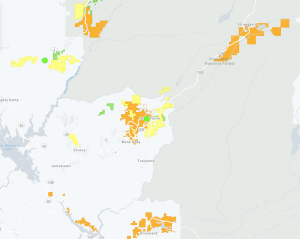 12-27-21 Power Outages

View Photo
Update at 8:34am: In addition to the outages below, thousands are now without power as well in the Calaveras communities of Wilseyville, Railroad Flat, Glencoe and West Point.
Update at 7:56am: Power outages are becoming more widespread in Tuolumne and Calaveras counties.
There is a new outage in Sonora impacting 464 customers near Highway 49, Shaws Flat Road, Saratoga Road, and the surrounding area.
Outages are also now reported throughout a wide area of Willow Springs, North Tuolumne Road, Mono Vista and Phoenix Lake.
1,600 customers in the area of Groveland, Moccasin and Chinese Camp have also lost power.
Because the outages are so widespread, PG&E says it is unclear when there will be full restoration.
Original story posted at 6:30am: Twain Harte, CA — PG&E reports that just over 1,500 customers are still without power near Pinecrest and Strawberry from a Christmas night outage. The hope is to have those customers restored by eight o'clock this evening.
There are still a few hundred without electricity from a Christmas night outage in Twain Harte. It is unclear when those will be restored. There is a new outage that started at 4:15 this morning impacting over 2,300 customers near Twain Harte. An estimated time of restoration is unknown.
There are also 175 without power outside of Murphys, 579 in Avery and Hathaway Pines, and around 500 near Arnold. PG&E reports that since outages are so widespread, it is unclear when those customers will be restored.