Tolhurst Sightings Reported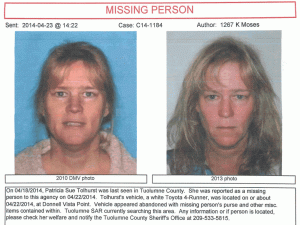 Patricia Sue Tolhurst - Missing Person

View Photos
Sonora, CA — The missing woman's car was a common thread in all the sightings according to Tuolumne County Sheriff's Officials.  As reported earlier, Sonora restaurant owner, 46-year-old Patricia Sue Tolhurst went missing in April and deputies found her car abandoned near the Donnell Vista Point a couple days later. Over the Labor Day weekend, there were several sightings of Tolhurst in the area.
"We returned the vehicle and her sister looks like her and some people were getting confused on that," says Tuolumne County Sheriff's Sgt. Scott Johnson. "I don't know if it was so much reporting it to us, but I know on social media there were several alleged sightings, but they were deemed to be unfounded."
Johnson says leads have dwindled in the case. He says initially detectives were getting five to six leads a day and now, it is down to two or three a week. However, Johnson says the case is still active and every tip the department gets will be followed up.
Since Tolhurst's disappearance, the Sheriff's Office has contended that no foul play is suspected. Tolhurst is the owner of the former Patty's Shack restaurant in East Sonora.