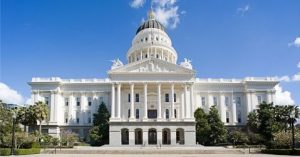 California State Capitol

View Photos
Sacramento, CA — A bill that would take guns out of the hands of individuals who are at-risk for committing acts of violence has passed the California Senate.
AB1014 would allow for the use of a Gun Violence Restraining Order (GVRO) when signed by a judge, to temporarily prohibit the named person from owning, purchasing, or possessing firearms or ammunition if it has been proven they are at risk for committing acts of violence.  Under the bill provisions, immediate family members can ask for an ex parte GVRO. It would last 21 days and could be extended up to a year after a notice and a hearing. In addition, law enforcement would be able to investigate threats and ask a judge to grant an emergency GVRO for 21 days.
The bill now goes to the Assembly for a vote sometime this weekend.