California Will Require Healthcare Workers To Receive Booster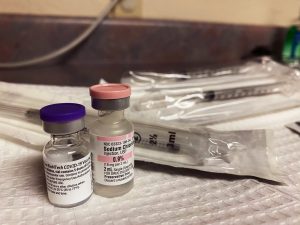 COVID-19 Vaccine

View Photo
Sonora, CA — Governor Gavin Newsom has announced a new COVID-19 vaccine directive.
He says, "We are moving forward to require all healthcare workers to be boosted and get that third shot, or at least the second shot if they got the J&J vaccine."
Newsom says it is in response to a rise in cases related to the omicron variant. California has seen a nine-percent increase in COVID hospitalizations in recent weeks, which is less than previous surges. Over 70-percent of Californians eligible for the vaccine have received at least two doses of Pfizer or Moderna or one dose of Johnson & Johnson.
Governor Newsom announced the new directive for health care workers last night and plans to release more details today. It is unclear when the directive will take effect.