Phone Call Could Lead To Stolen Boat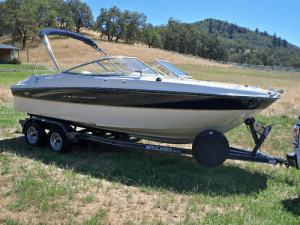 Stolen 2002 Bayliner boat and its trailer

View Photos
San Andreas, CA – A woman calling about a stolen boat could lead to the thief according to San Andreas CHP officials.
A Cargo trailer, a 2002 Bayliner boat and its trailer were stolen on July 30 from the 13000 block of Camanche Parkway South in Burson.  The cargo trailer was found abandoned in Stockton on August 1, but there was no sign of the boat or trailer.
On August 12, an unidentified female called the CHP asking to have a boat's CF number checked to see if it was stolen.  An officer told the woman it was the boat they were looking for and she promptly hung up.  The only detail the officer was able to get was that the boat was possibly located between Valley Springs and San Andreas.
The CHP reminds residents never buy a vehicle or vessel if the seller does not have the title, registration card and/or loan documents. Also, always compare the name on the documents with the seller's identification.  You can always call the CHP in regards to a vehicle for sale.
A picture of the boat is to the left. The CHP's description is:
2002 Bayliner Rendezvous 21 foot, CF# 8195SC
White with a blue strip
Blue canopy
2002 Bayliner, blue two-axle trailer
Spare tire mounted near the front of trailer
CA License # 154385X
The CHP is asking the public for help to find a stolen boat and trailer.  Anyone with information may contact the San Andreas CHP office at (209) 754-3541.