Summerville Stadium Project Update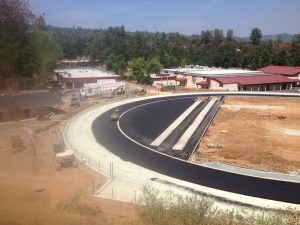 Summerville Stadium Construction

View Photos
Tuolumne, CA — Summerville High School's Superintendent reports the stadium project is coming in ahead of schedule and under budget.
"It's about $3.1 million for the stadium piece so we're just a few thousand under that and we'll see where is all ends up," says Superintendent Robert Griffith.  "The fact that we're really close in the ball park on this size of a project with all the issues we've had, we take that as really good news."
Griffith adds the project is about a week ahead of schedule.  He gave us an update on the project complete with the pictures to the left. Griffith notes the paving started Friday on the track in order to make way for the all-weather track surface installation in a couple of weeks. He says the infrastructure, light poles, scoreboard, and curbing are close to completion. In addition, the track, turf, and Snack Shack are all on schedule.  As for the concrete bleachers, Griffith reports they are being laid out with the first cement pour slated for next week.
"The next four weeks or so will tell the story as to whether we're able to maintain our schedule," says Griffith. "Whether we make up time or fall behind will depend on the bleachers and that is basically out of our control."
One additional note, construction on the Sonora Union High School stadium project is slated to begin in October.