T.U.D. Conservation Goal Reduced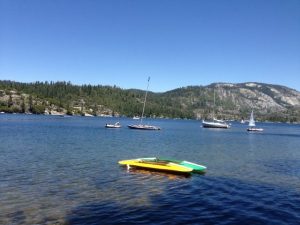 Pinecrest Lake

View Photos
Sonora, CA — The Tuolumne Utilities District voted last night to relax water restrictions placed on customers.
At one point this year, T.U.D. was asking for 50% water conservation, and now the district is only asking for 25%.
Last week the State Water Resources Control Board notified the district that additional water can be drawn from Pinecrest this year prior to Labor Day, allowing it down to 5,606 ft. If that is not enough, the state indicated it is open to having discussions about dropping it down to 5,604 ft.
It was also noted that actions taken by customers have improved the water outlook for the district. Last month water usage was down 51%.
There were questions posed by Board members about what could happen if the drought continues next year.
General Manager Scesa noted that T.U.D. has reached out to South San Joaquin Irrigation district about purchasing additional water, if the need arises. There will also be talks about allowing the district to keep and store this season's water that's not utilized out of Pinecrest Lake.