Supervisor Deals With Fire And On-Going Drought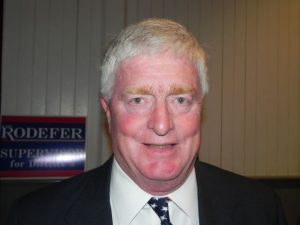 Supervisor Rodefer

View Photos
Karl Rodefer says over the past year, he feels both satisfaction and concern in dealing with a variety of major issues since taking over the Tuolumne County Supervisor District 5 seat.
Rodefer was Wednesday's KVML "Newsmaker of the Day".
"The Rim Fire was one of the largest local events that any of us Supervisors have ever experienced," said Rodefer. "It allowed me to see how well the people of Tuolumne County come together during a time of disaster. The ramifications, effects and lessons of the Rim Fire continue today and we are still dealing with various directly-related issues at each of our meetings."
The on-going drought is another major item to deal with.
Rodefer said, "I've been studying local water issues and have been dealing with a variety of issues, people, TUD and the one hundred thirty-eight separate water districts throughout this county. We really need a state bond."
When asked about the economic health of Tuolumne County, Rodefer pointed to the balanced budget and projects what he calls "the new normal" of one to two percent economic growth each year, for the next five years.
Rodefer grew up in an Air Force family, where he lived in Germany and several states including California. In 1972, he graduated from the United States Air Force Academy with a Bachelor's Degree in Engineering. In 1980 he received his Masters Degree in Government and International Relations from New Mexico State University. Eleven years ago, Rodefer and his wife Jo moved to Sonora and became active members of the community.
The "Newsmaker of the Day" is heard every weekday morning on AM 1450 KVML at 6:45, 7:45 and 8:45am.