Update: Stretch Of South Forest Road In Sonora Reopened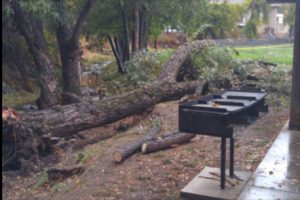 Fallen Willow tree at Woods Creek Rotary Park

View Photos
Update at 4:45 p.m.: Sonora Police report that crews have finished removing a tree that came crashing down on a stretch of South Forest Road forcing its closure. It took crews over four hours to clear the roadway. SPD spokesperson Thomas Brickley tells Clarke Broadcasting that the large willow tree was in the Woods Creek Rotary Park behind the gazebo when it fell and got hung up on a utility line. The force snapped the pole but the line remained attached, so there was no power outage in the area. A PG&E crews were able to brace the pole and put in a new one while road crews worked to remove the tree and debris.
A special thank you to our community partner Sandy Perkins for sending in photos.
Original post at 12:11 p.m. written by BJ Hansen: Sonora, CA — The Sonora Police Department reports that a tree has crashed into a utility line on South Forest Road.
Because of the incident, a stretch of South Forest Road will be closed for an extended period. If you are turning onto South Forest Road from Highway 49/Stockton Road, the closure starts just past the Adventist Health Sonora Medical clinics, and coming from the opposite end, the closure starts at Sylvan Drive. You will need to avoid the area. Be prepared for a delay.