Piles Of Trash In The Mother Lode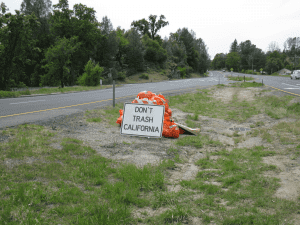 Caltrans Litter Rmoval Day in Tuolumne County

View Photos
Caltrans crews found plenty of trash littered along several highways in Tuolumne and Calaveras Counties.
Caltrans held its statewide "Litter Removal Day" this past Thursday to educate the public about this costly issue.  Last year, Caltrans spent $62 million on litter removal throughout the State and collected enough litter, trash and debris to fill more than 9,700 garbage trucks.
This year's state totals are not in yet, but in Tuolumne County crews picked up over 108 bags of litter at these locations:
State Route 108 (SR-108) from Soulsbyville Road to about Plainview Road/West Twain Harte
From the Stanislaus/ Tuolumne County line on SR-120 to just past Green Springs Road
SR-120 from Jacksonville Road to just past the Tuolumne River Bridge
In Calaveras County, 98 bags of litter was collected at these locations:
State Route 4 (SR-4) from Telegraph Road to Murphy Drive, and from Depot Road in Angels Camp to Allen Lane in Murphys
SR-49 from the Calaveras/Tuolumne County line to Red Hill Road
Caltrans encourages you to:
Carry a litter bag in your automobile and always dispose of trash properly
Never discard cigarette or cigar refuse improperly
Always cover and properly secure loads on trucks and pick-ups
Caltrans has also started a new "Butts Only Boxes" campaign.  The boxes are being installed at rest stops along state highways so motorists can safely discard their used cigarettes.