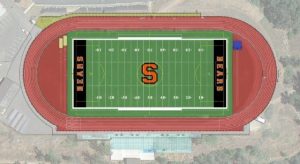 Summerville Bears

View Photos
Tuolumne, CA — The Division of the State Architect (DSA) has approved Summerville High School's stadium design. The plans were submitted to the state on December 20 and word of the approval came yesterday.
"We're very excited to move from planning to construction," says Superintendent Robert Griffith. "We are hoping to break ground in the next seven to ten days."
Several steps must take place in the coming week.  Those include a final bid from the General Contractor Robert E. Boyer Construction of Twain Harte and the School Districts approval.  In addition, the board approved concrete bleachers, instead of aluminum to save between $200-300K.  Engineers are still working on that design, which will also have to be submitted to the State for approval.
Griffith says, "We will be able to go forward with all parts of the project, except the bleachers.  The new bleacher design is about four weeks from being completed.  Mid-May we will submit those plans to DSA for an expedited review process. We're shooting at mid-summer for that to come out and then we can simultaneously have a crew be also working on the bleachers.  We are still shooting for a completion date of September first."
The stadium projects total cost is estimated to be $4.2 million. Griffith says they" hope to get that number into the threes" once the cost cutting measures, like the concrete bleachers, are tallied.
The overall stadium renovation project also includes reconfiguring and replacing the field, ADA upgrades, and renovating the snack shack.  Funding for the project will come from the voter approved Measure H bond.
One note, Sonora High School Superintendent Mike McCoy says they have not received any word from the state on their stadium plans that were also submitted in December.  McCoy says, "We expect the State's approval to come in mid-May."