New District Ranger Targets Rim Fire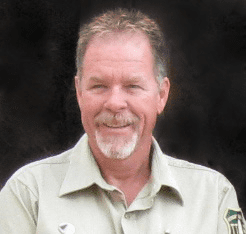 Jim Junette, Stanislaus National Forest

View Photos
Sonora, CA — There is a new District Ranger on the Groveland Ranger District of the Stanislaus National Forest. 23-year forest employee Jim Junette has been hired to oversee the District. Junette's top priority will be getting closed areas of the Rim Fire reopened.
"These areas are used by thousands of local citizens and tourists every year," said Junette.  "Our local communities rely on those visitors to support their businesses and livelihoods."
In addition, Junette will focus on getting the District fully staffed to accommodate all of the resource needs and demands. .  He has held five positions on the Calaveras Ranger District including timber marker, marking crew foreman, assistant culturist, small sales officer, and Resource Management Program Area Leader.
"Jim's experience working with the surrounding communities, many of which are the gateway to Yosemite National Park will be invaluable to his new position," said Susan Skalski, Forest Supervisor, Stanislaus National Forest.  "He also has a background with post-fire restoration and on working with collaboratives. This will be especially helpful in moving forward with land management on the Groveland Ranger District."
Junette's first day on the job will be June 2. He replaces former District Manager Maggie Dowd.