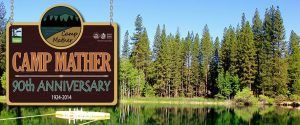 Camp Mather near Yosemite

View Photos
Tuolumne County, CA — The Strawberry Music Festival is in danger of being cancelled for a second year.  The festival did not take place last Fall due to the Rim Fire, and damage from the blaze threatens to cancel this year's event as well. Now, the Tuolumne County Board of Supervisors may step in to try to help save the event.
The festival has been held at Camp Mather for the past 30 years.  The camp is in Tuolumne County, but owned by San Francisco.
Earlier this month, Festival Officials contacted Tuolumne County concerned that the City and County of San Francisco were not going to issue a permit for the 2014 festival.   San Francisco Officials will not issue the permit because of safety concerns in the closed off Rim Fire areas. Officials are also concerned about having enough water for the nearly five to seven-thousand visitors the festival attracts.
At next week's meeting, County Supervisors will discuss sending a letter to the City and County of San Francisco addressing their concerns and asking that the permit be issued.
Click here for more background information in support of the letter as well as the proposed letter.