Berryhill: Water Bond, Jobs and Raising Lyons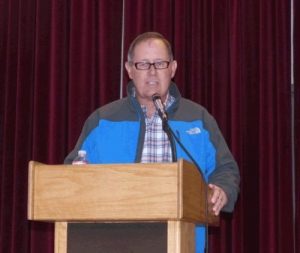 Senator Tom Berryhill Speaks in Sonora

View Photos
Sonora, CA – While in Sonora, District 14 Senator Tom Berryhill spoke about the need for a state water bond, and the potential to expand Lyons Reservoir.
Berryhill was the keynote speaker at the "Grow Your Business Expo" held this morning at the Sonora Opera Hall. The Republican Senator noted that water is the main issue currently facing the state of California. Berryhill indicated that momentum was building in Sacramento to pass a water bond, which could include money for additional above ground water storage. He said a decision on a water bond would likely come at the final hour of the current legislative session.
Berryhill also said he was disappointed that the water bond introduced by former Senator Dave Cogdill back in 2008 failed to include plans to raise Lyons Reservoir, located off Highway 108. In an interview afterward the Expo, Berryhill spoke about whether it's possible that Lyons will be included in the upcoming water bond.
"It's kind of a twinkle in our eye here all of a sudden," the Senator said. "We're going to be working with some folks and see what can happen. I sat down and talked with Congressman Jeff Denham recently, and they may put it in their package federally. It would be a natural to put it on our state water bond also, so we'll see how it goes."
Berryhill then quickly added, "It's important though, when it comes to Lyons, that we need to have the community solidly behind that kind of project, and there is no reason why they shouldn't be."
At the Business Expo, Berryhill also spoke about the challenges that he faced trying to pass CEQA reform legislation last year. He said the only CEQA reform that passed was a bill to help make it easier for the Sacramento Kings to build a new arena.
In addition, Berryhill expressed support for expanding the practice known as "fracking" to extract more natural gas in California. He spoke about a recent trip to North Dakota, and the amount of jobs it has created in other parts of the country.
The Business Expo drew around 80 people throughout the morning. It was put on by the City of Sonora, Business Alliance of Tuolumne County, U.S. Small Business Administration, Wells Fargo, and the California SBDC.