Berryhill Money Laundering Trial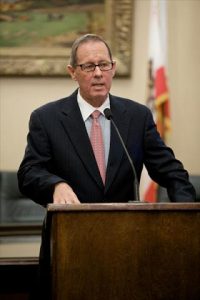 Senator Tom Berryhill

View Photos
Sacramento, CA — District 14 Republican Senator Tom Berryhill took the stand this morning at an administrative hearing in Sacramento and denied the money laundering charges. Berryhill and his brother, Bill Berryhill, are accused of a money-laundering type scheme that occurred leading up to the 2008 election. (Click here for an earlier story outlining that alleged scheme.)
The Fair Political Practices Commission today argued that the two moved around campaign funds in hopes of dodging the rules that limit individual campaign contributions.
Here is a statement released by the Commission regarding the hearing:
"All we can say is that the trial is set to go through next Wednesday, that after the trial the Administrative Law Judge will make a recommendation to the Commission, and that the commission then decides the final disposition of the case. "
Bill Berryhill is expected to take the stand next Tuesday. The brothers could face a fine of up to $80,000.
Tom Berryhill's District 14 covers Tuolumne County.