McClintock Pushes For Rim Fire Timber Harvest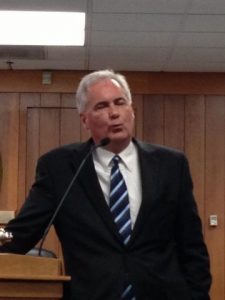 (R) Congressman Tom McClintock's Town Hall meeting

View Photos
Tuolumne County, CA – Congressman Tom McClintock has released a new statement saying he doesn't want the timber that can be salvaged from the Rim Fire to go to waste. He has introduced HR 3188, which waives the environmental review process and authorizes federal forest managers, following established environmental protocols for salvage, to sell the dead timber and to supervise its removal.
Local Republican Congressman Tom McClintock says, "Within a year, the value of the timber begins to decline rapidly as the wood is devoured by insects and rot. That's the problem: cumbersome environmental reviews and the litigation that inevitably follows will run out the clock on this valuable asset until it becomes worthless." More details are in his new blog "Time is Running Out for the Sierras" here.
McClintock says his legislation is modeled on legislation authored by Democratic Senator Tom Daschle. Dead and dying trees were salvaged in the Black Hills National Forest, a measure credited with speeding the preservation and recovery of that forest. To read the full blog click here.