Update: Majority Of Tuolumne County Loses Power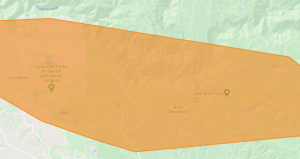 PG&E Power Outage

View Photo
Update at 5:45 p.m.:  PG&E spokesperson Megan McFarland tells Clarke Broadcasting that the exact cause of last night's massive power outage that impacted about 30,000 customers may not be known for a couple of days or a couple of weeks. She explained, "We know it was equipment failure, but it is still under investigation as to what equipment and where the failure occurred."
The lights went out for those customers beginning at 7 p.m., involving both Tuolumne and Calaveras County as it stretched into the Copperopolis area. There were four outages in total with most of those impacted spanning from Chinese Camp up to Long Barn, and over to Groveland in Tuolumne County.  McFarland noted that crews worked overnight to restore power with all customers having their lights back on by 5:33 a.m.
Update at 8:40am: PG&E reports that all of the customers from last night's widespread outage have been restored. PG&E spokesperson Megan McFarland relays that the specific cause of the outage is still under investigation.
Update at 5:50am on 4/16/21: Around 30,000 PG&E customers lost power last night throughout a large swath of Tuolumne County and a part of Calaveras County in the Copperopolis region. The outages stretched from Chinese Camp up to Long Barn, and over to Groveland. PG&E reports that it was caused by an equipment issue, but details have not yet been released. As of this morning, there are just over 2,500 still without electricity, mostly spread throughout southern Tuolumne County. PG&E is hoping for full restoration by mid-morning.
Original story posted at 7:20pm on 4/15/21: Sonora, CA — PG&E is reporting that there are four major power outages across Tuolumne County this evening impacting thousands of customers.
The utility reports that around 30,000 customers are impacted. PG&E says it could be around 10pm when full restoration occurs. It is unclear what caused the outages. It is impacting communities as low as Chinese Camp and all the way up to Cold Springs. It is also stretching into parts of Copperopolis in Calaveras County.