Soil Test Could Delay Summerville Stadium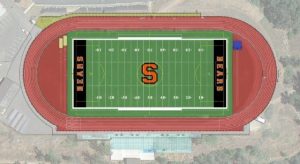 Summerville Bears

View Photos
Tuolumne, CA — Some soil samples needed to complete the design for the stadium bleachers were not taken and that could slow up the Measure H funded project. The board of trustees received that news at last night's meeting from the BCA Architects firm working on the project. Engineers did take some soil samples earlier, but did not do the boring test which will be needed to design the bleachers to the correct safety and building code requirements. That could delay the project because the plans need to be submitted to the Division of State Architects (DSA) for approval.

Summerville Superintendent Robert Griffith say, "According to the engineering company we are still within the window of time of being able to get the plans submitted to the state so that we can start once the springtime hits. That remains to be seen."

Griffith says the additional test will be conducted in the next two weeks at no cost to the District. The trustees also got a look at five designs for the new football field last night. The preferred design for the colors and lettering on the field can be viewed to the left. It will cost around $18,000 if trustees decide to go with the piping around the "Bears" lettering. In addition, the Board learned they will be able to put in a new press box.

"It was going to cost $100,000 dollars to provide a disability access lift to the press box. We were able to get that waved since the rest of the stands will be handicapped access. This allows us tear down the existing press box and build a brand new one at a fraction of the cost," says Griffith.
Construction on a new stadium is tentatively scheduled for the late spring of 2014. For a description of the proposed construction phases view Summerville Seeks Qualified Builders here.