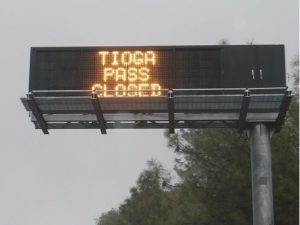 Tioga Pass Closed

View Photos
Yosemite, CA — Two of the Mother Lode mountain passes have been reopened, but slick roads are keeping a third pass shut down. Snow prompted Highway 120 Tioga Pass to be closed Tuesday evening and Yosemite National Park officials say the roadway will not reopen until tomorrow morning.

"We received about three to five inches of snow and quite a bit of ice. It's been real cold so we've got plows on it today. We're keeping it closed trying to get some plows and gravel on it," says Ranger Scott Gediman.

Caltrans shut down Highway 4 Ebbetts Pass and Highway 108 Sonora Pass Wednesday morning due to approaching bad weather. Both were opened to motorists this morning.
Click here for the latest road updates.