Yosemite Expansion Bill Hits Senate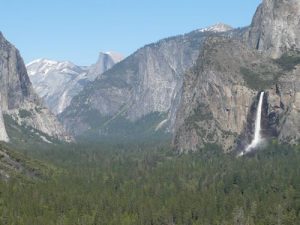 Yosemite - Overlook

View Photos
Yosemite, CA — A bill that would add 1,600 acres to Yosemite National Park is heard in the Senate. The U.S. Senate Subcommittee on National Parks held a hearing earlier this week which included plans to expand Yosemite National Park. The Federal legislation introduced by California Senators Diane Feinstein and Barbara Boxer would allow the park to add 1,600 acres in Mariposa County. Yosemite currently has 761,000 acres. Click here for an earlier story on the bill.
In June, Governor Jerry Brown signed a resolution encouraging the federal government to expand the boundaries of Yosemite National Park. Senate Joint Resolution 5 was authored by Mother Lode representatives Senator Tom Berryhill and Assembly member Frank Bigelow. One lawmaker that has previously expressed some concerns about expanding Yosemite is U.S. Congressman Tom McClintock. He is worried that it could be a "federal land grab." However, he has not taken a side at this time.
Proponent Environment California Preservation Advocate Nathan Weaver who applauds the bill counters, "This is land that is already owned, well half of the land is owned by the non-profit Pacific Forest Trust which bought up the land to protect it. The other half is owned by private investors who want to add it to the park. I think by expanding Yosemite's boundaries we are actually honoring the wishes of the private property owners."
Proponents hope the bill will be passed before the 2014 150th anniversary of the original Yosemite land grant, signed by President Abraham Lincoln in 1864.