Update: Stabbing Near Hotel In Murphys Under Investigation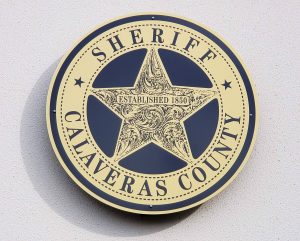 Calaveras County Sheriff Department building logo

View Photo
Update on 3-2-21: Additional information is being relayed about a stabbing that was reported in downtown Murphys on Saturday evening.
Owner of the Murphys Hotel, Brian Goss, tells Clarke Broadcasting, "At around 9:30pm two males who were not our customers had a confrontation on the sidewalk near the hotel. One male ran from the other into our parking lot at which time he was stabbed by the other male who then ran off."
Goss adds, "The victim came to the hotel for help and two of my servers helped apply pressure to stop the bleeding. They then found two ex-employees who are both trained first responders to help the victim. We called 911 for help and did our best to help this victim. The ambulance showed up 30-45 minutes after our initial contact with victim.
He concludes, "The man ran to the hotel for help, since we were the only place open to help."
Additional information earlier reported by the sheriff's office can be found below.
Original story posted 3-1-21: Murphys CA — A stabbing reported on Saturday at the Murphys Hotel is being investigated by the Calaveras Sheriff's Office. The Calaveras Sheriff's Department says the incident happened on Saturday at about 9:50 PM at the Murphy's Historic Hotel on the 400 Block of Main Street. The victim was treated and released from a valley hospital and no further details about them are available.
Sgt. Greg Stark says the suspect is unknown at this time and the investigation is ongoing. Calaveras's detective division is handling the follow-up, they will be responsible for collecting witness statements and security footage from the building.