Update: Mother Lode Under PG&E PSPS 'Watch'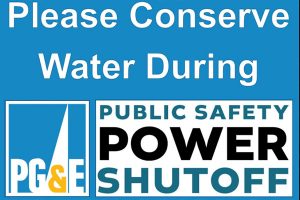 TUD and CCWD call for water conservation during PG&E PSPS

View Photo
Update at 5:40 a.m. Saturday:  PG&E released the below statement this morning regarding its possible Public Safety Power Shutoff (PSPS):
"While there is still uncertainty regarding the strength and timing of this weather wind event, the shutoff is forecasted to affect approximately 130,000 customers in targeted portions of 15 counties, including Alpine, Amador, Calaveras, El Dorado, Fresno, Lake, Monterey, Napa, Nevada, Placer, Sierra, Sonoma, Tulare, Tuolumne, and Yuba, as well as five tribal communities. The highest probability areas for this PSPS are the Sierra foothills; the North Bay mountains and portions of the Central Coast."
Further details on the PSPS impacts for local counties can be viewed below:
Update at 4:08 p.m.: PG&E has updated its Public Safety Power Shutoff (PSPS) map for Tuolumne and Calaveras counties. It shows that Tuolumne County's outage is concentrated up the Highway 108 corridor stretching from Tuolumne to above Strawberry. The county's OES  officials relay that nearly 10,114 customers could be impacted beginning at 4 a.m. on Monday (12/7) and last through Tuesday (12/8) at 10 p.m.
Calaveras OES states PG&E has informed them that an estimated 10,000 customers along the Highway 4 corridor beginning at Hathaway Pines and also from Rail Road Flat to the West Point area could be impacted beginning between 4 and 7 a.m. on Monday. The completed power restoration time is slated for Tuesday by 10 p.m.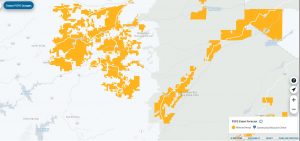 Further details regarding the PSPS Watch can be viewed below.
Original post at 2 p.m.: Sonora, CA – The Mother Lode's electricity could be shut off by PG&E next week due to blustery weather creating a wildfire risk.
The utility's Public Safety Power Shutoff (PSPS) map below shows zone 5, including Alpine, Amador, and Calaveras, and 8, which encompasses those same counties along with Tuolumne and Mariposa, are under a "PSPS Watch" and are targeted for the potential planned outage. A watch is defined by the company as "a reasonable chance of executing PSPS for public safety in a given geographic zone due to a combination of adverse weather and dry fuel conditions."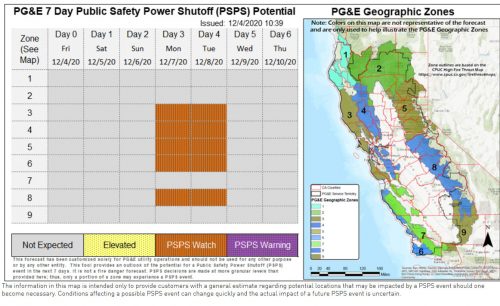 Tuolumne County Office of Emergency Services (OES) relays that PG&E informed them that due to current weather forecasts, including high winds and continued dry conditions, nearly "10,114 customers in the area of Crystal Falls/Tuolumne and east up the hill" may be impacted. The start time would be around 4 a.m. on Monday (12/7) and last through Tuesday (12/8) at 10 p.m.
PG&E meteorologists are monitoring an offshore wind event that could bring gusty northeast winds that will likely develop in the Sierra foothills and are being monitored closely for escalation. They add that although November rain and snow improved fuel and soil moisture in some areas, the recent long spell of dry and mild weather has begun to reverse those gains resulting in heightened fire danger concerns, especially across lower elevations. Additionally, the US Drought Monitor still indicates that most of Northern California is in severe to extreme drought at this time.
A PSPS watch is typically only issued within 72 hours before the anticipated start of an event, according to PG&E. Updates will be provided as soon as new information comes into the newsroom.