Update: PG&E Reports Some Lights Already Back On In Mother Lode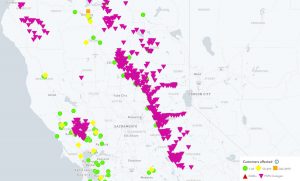 PSPS Events Across California

View Photo
Update at 7:45 a.m.: PG&E gave the weather "all clear" for most of the counties impacted by the Public Safety Power Outage (PSPS), including Tuolumne and Calaveras counties. That means that electric crews have begun patrolling in the air, in vehicles and on foot nearly all the 10,750 miles of transmission and distribution power lines that were de-energized. Utility officials say that once lines are inspected and found free of damage or hazards, it can proceed with restoring power to customers.
 Restoration for the vast majority of customers impacted by this PSPS event is expected to be completed by the end of the day Wednesday. However, company officials say restoration could be slowed if there is too much smoke from nearby fires to permit safe air inspections by PG&E's helicopters and fixed-wing aircraft.
Regarding the call for the PSPS, utility officials point to these statistics, "Within the PSPS-affected area, PG&E weather stations registered 40 to 60 mph wind speeds overnight Monday with reports of 66 mph wind gusts in the Northern Sierras. These Diablo winds are strong enough to break tree limbs, blow them into power lines, and cause rapid fire spread."
Further details on the restoration process are below .
Update at 6 a.m.: PG&E reports the "all clear" is expected to be given at daybreak, allowing restoration patrol crews to turn the lights back on in the Mother Lode. All electricity is projected to be restored by 7 p.m. tonight. Further details are below on the restoration process.
Update at 8 p.m. Tuesday: PG&E reports that some areas of the Mother Lode have already had power restored, including in Tuolumne and Calaveras counties. Currently, the total number of customers impacted by the PSPS is 167,000 in 21 counties and 7 tribes, according to PG&E Senior Director of Emergency Preparedness and Response Mark Quinlan. During a PSPS briefing Tuesday evening he detailed, "There is a block of customers, ranging between 30 to 35,000 customers that we believe can be able to be restored. So, we are in the process of doing that work." He added that a large patrol force, described in the chart below, got underway restoring power late Tuesday afternoon, including in Tuolumne and Calaveras counties.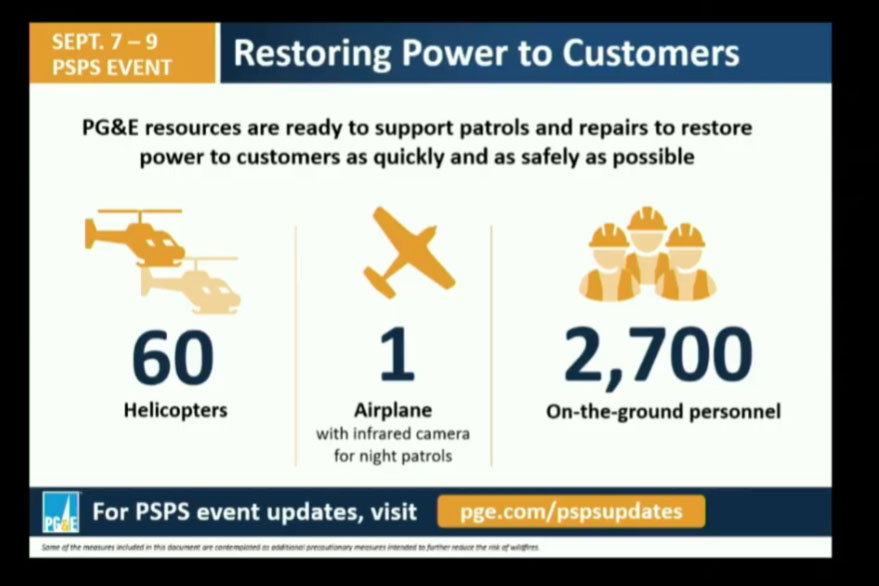 While the choppers were grounded at dusk, the other crews will continue working overnight restoring power, but specific areas were not identified. Clark Broadcasting did receive a couple of calls from residents in Sonora, Columbia, Jamestown, and Sugar Pines who reported their electricity was restored. However, the company is sticking to its official Wednesday evening timeframe for all power to be restored. Quinlan stressed that the "all-clear" for the PSPS is expected to be given at daybreak tomorrow, meaning that it could take crews up to 12 hours to restore power to all areas, barring any damage to lines or equipment that could take longer.
Regarding meeting the utilities pledged to reduce the impacts of power shutoffs by a third, Quinlan touted, "I can tell you with a high degree of confidence that we're tracking at or better than that goal so far."
Details on charging and cooling stations in both counties are below.
Update at 4:30 p.m.: Tuolumne County OES relays that PG&E is still anticipating the PSPS will be restored by 7 p.m. tomorrow for all customers in the county, "once the weather subsides after tomorrow morning."
OES officials remind that Community Resource Centers, which are listed below, remain open until 10 p.m. However, at this time, they are only set up for medical and smaller device charging. An additional cooling center will open tomorrow due to the sizzling temperatures. Currently, one station is open at the Jamestown Community Hall from 11 a.m. to 7 p.m. today and tomorrow. The new station will be at Motherlode Fairgrounds off Stockton Road in Sonora at the Creekside Building operating at the same hours.
Below written by BJ Hansen.
Update at 9:39am: TUD is postponing its Board of Directors meeting that was scheduled for two o'clock this afternoon.
The Tuolumne County Senior Center drive-thru lunch is canceled today and will resume on Thursday. Interfaith Social Services is closed today.
Update at 9:07am: The Tuolumne Utilities District is asking everyone to conserve water as much as possible during the PG&E planned power outage, and limit or delay outdoor watering.
The same message is being released this morning by the Calaveras County Water District. CCWD has also canceled today's planned public outreach meeting regarding the Highway 4 Reach 1 Water Pipeline Replacement project. It will now be held on Tuesday, September 15 at 5:30pm.
In addition, today's Sonora City Council meeting has been postponed due to the power outage. It will now be held this Thursday at 6pm.
Many schools are canceling classes due to the outage. Click here to find the list of those who called in to confirm.
More details regarding the planned power outages can be found below.
Original story posted at 6am: Sonora, CA — The power was turned off late Monday evening for much of the Mother Lode as part of the PG&E Planned Power Outage.
Meanwhile, smoke from the Creek Fire in Fresno County has been inundating much of the region this morning. The latest on the situation in Tuolumne County is that the outage is impacting around 29,800 customers and in Calaveras County it is around 13,000.
PG&E reports that the plan is to restore power to the region by late in the day on Wednesday.
During the duration of the outage, Community Resource Centers will be open in Tuolumne County at the Columbia Elementary School, Mother Lode Fairgrounds in Sonora, Eproson Park in Twain Harte and Mary Laveroni Park in Groveland. The centers will be open from 8am-10pm. There will be wi-fi, device charging stations, water, snacks and restrooms.
Also, the Tuolumne County cooling center is being moved to the Jamestown Community Hall at 18250 Main Street. It will be open from 11am-7pm today and tomorrow.
In Calaveras County, Community Resource Centers are open at the Chapel of the Pines in Arnold, the Murphys Fire Protection District, the VFW building in West Point and the Saint Matthews Church in San Andreas. The hours are 8am-10pm.
Clarke Broadcasting reached out to PG&E on Sunday to see if there was a safety message for the community ahead of the outages, given the possibility of smoke from the Creek Fire, and near triple-digit temperatures projected today. However, there was no response.