High-Risk Stop Results In Stolen Vehicle, Drug Arrests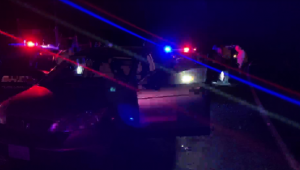 Ball, Pipitone arrest July 28 2020 TCSO Photo

View Photo
Sonora, CA – A patrolling deputy behind a vehicle was also following a hunch when he ran a registration check revealing it was stolen.
According to Tuolumne County Sheriff's spokesperson Deputy Nicco Sandelin, the deputy was working early this morning in the area of Tuolumne Road when he conducted the check, which triggered a high-risk vehicle stop.
Sandelin says the driver, 34-year-old Melissa Ball of Jackson, continued a short distance before eventually complying with the emergency lights and sirens. She and her passenger, 33-year-old Justin Pipitone of Ione, were subsequently ordered from the vehicle after which it was searched.
Deputies located miscellaneous drug paraphernalia items and determined that Pipitone had additionally thrown drug paraphernalia out of the passenger window in an attempt to destroy evidence.
Ball was arrested for possession of a stolen vehicle, evading deputies, and possession of drug paraphernalia. He faces charges relating to possessing drug paraphernalia and destruction of evidence.