Update: Helicopter Crashes In Calaveras County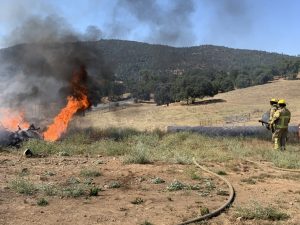 Helicopter Crash Near San Andreas

View Photos
Update at 12:05pm: Three people were inside the helicopter that crashed at around 10am today off Highway 12 near San Andreas.
Calaveras County Sheriff's Office Sgt. Greg Stark says that the helicopter, contracted by PG&E, reportedly lost power and crashed.  The helicopter is model MD600N.
PG&E spokesperson Brandi Merlo adds, "The pilot and two PG&E electric troublemen were able to exit the helicopter before it caught on fire. The fire was quickly extinguished and the three were transported to a local hospital. PG&E is working closely with first responders to ensure the safety of the area."
The NTSB and FAA have been called in to investigate the crash.
Update at 10:45am: Calaveras County Sheriff's Office spokesperson, Sgt. Greg Stark, confirms that a helicopter crashed this morning in an area off Highway 12 between San Andreas and Valley Springs. It is a helicopter that is contracted with PG&E. He adds that there are "minor injuries" reported. It ignited a small fire that was quickly controlled by arriving officials. We'll pass along more information when it becomes available. It happened at around 10am.
Original story posted at 10:20am: San Andreas, CA — Numerous emergency responders are heading to a report of a helicopter crash in a field located off Highway 12 between San Andreas and Valley Springs.
The CHP indicates that the helicopter crashed near a ranch property and it started a small fire. The Calaveras County Sheriff's Office and firefighters are also responding. No additional information is immediately available. Be prepared for activity in the area.