Update: Crash Impacts Highway 49 Traffic Near Stevenot Bridge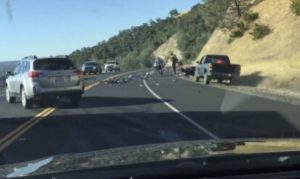 Crash on Highway 49 near Stevenot Bridge

View Photo
Update at 10:09 am: Both directions of traffic are back open on Highway 49 near the earlier crash. Caltrans continues to clean up a diesel leak along the side of the road.
Original story posted at 8:46am: Calaveras County, CA — There is a crash involving a motorcycle on Highway 49 near the Calaveras-Tuolumne county line.
It is impacting traffic near the Stevenot Bridge. The crash occurred on the Calaveras side. It also reportedly involved a box truck. Travel with caution in the area. The CHP reports that both directions of traffic are currently blocked. An ambulance is responding to the scene.