Update: Columbia Aircraft And Ground Units Dispatched To Amador County Fire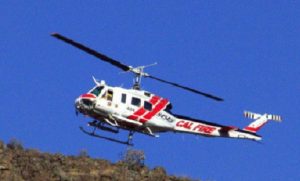 CAL Fire C404 helicopter based in Columbia Air Attack Base

View Photo
Update at 2:10 p.m.: CAL Fire reports that Tuolumne-Calaveras Unit crews have been called off a vegetation fire they were responding to in the Amador-El Dorado Unit area. Columbia aircraft have returned to base. No fire details were relayed.
Original post 1:45 p.m.: Sonora, CA — Tuolumne-Calaveras Unit of CAL Fire is assisting the Amador-El Dorado Unit with a vegetation fire.
If you head Columbia aircraft fly overhead they and ground crews are heading to Amador County to assist with a blaze reported in the Lockwood area, which is near Volcano. Further details regarding the fire's size or the flames' rate of spread are not known. There is also no word on whether any structures are threatened. An update will be provided when new information comes into the newsroom.