Update: Tuolumne County Discussing Cuts And Layoffs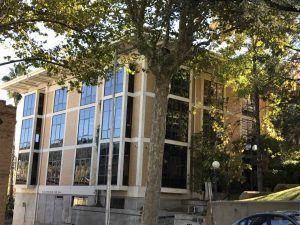 Tuolumne County Government Building

View Photo
Update at 9:15 p.m. written by Tracey Petersen: Digging into reserves to fund firefighting and significant personnel changes including layoffs were the main topics of discussion at the afternoon session of the Tuolumne supervisors budget meeting.
The fire budget presentation by staff showed a $600,000 shortfall, an amount that would require the closing down of the Jamestown Station 76. (Click here to view the presentation)That would mean cutting one engine  (includes five permanent positions). It was pointed out that three of those jobs are filled by county residents. Also, that would result in a 50 percent reduction in the county's firefighting staff. Those projections brought this reaction from District 2 Supervisor Ryan Campbell, "Of all the things to consider cutting a fire station would be pretty much last on my list." A sentiment shared by the other board members.
CAO Tracie Riggs outlined the staff recommendations, "Either we pull from reserves and balance this fire budget and get them moving forward, or we put in a line item in our general fund for COVID-19 funds through the CARES Act (to pay for the shortfall)." She went on to explain, "You would do an additional transfer out from the general fund to the fire fund and then we would continue to work the solution and in September your board could make that final decision."
One concern expressed by Riggs was skepticism that federal funding is actually coming. She also suggested looking at a fire fee or ballot measure in November for ways to make the fire department self-sustainable. Campbell interjected a possible property assessment as a way to secure additional revenue. Ideas District 3 Supervisor Anaiah Kirk found questionable, stating, "With COVID-19 and with those two tax measures being shot down (earlier in March), I don't think people necessarily want to see more assessment or taxes. I think they want to see if there are ways, we can do better or do things more efficiently."
County Auditor-Controller Debbie Bautista cautioned that the county only has $2.5 million in its reserves, which she noted is not a lot. She warned, "There are challenges over more than a couple of years because of COVID-19 that's going to affect our revenues, I believe. We don't know what businesses are not coming back. We don't know which employees are not going to be working anymore." Bautista went on to predict that the county is going to face ramifications from COVID-19 for the next 12 to 24 months.
Campbell stressed the seriousness of the problem noting, 'It's really important for the public to understand that it's a significant problem and we don't have a secure source of funding for fire right now in Tuolumne County."
The board decided to hold off on making a decision until its June 16th meeting. It did not have that luxury when dealing with staff cuts as today was the legal cut off for layoff notices to go out. (Click here for the presentation on personnel actions.) CAO Riggs began the staffing discussion with a sobering statement that it requires 45 positions to be impacted. That includes 8 positions for elimination or layoff, 23 positions frozen and 14 furloughed. She concluded, "Forty-five positions is a lot. This is a really significant number for us…We have 640 employees and were getting close to the 10 percent range (in staff  cuts)." Riggs also disclosed that it will have a significant impact on services relaying that she will be coming back to the board for recommendations on possibly reducing business hours or closing some buildings one day a week to make up for the loss of staff.
District 5 Supervisor Karl Rodefer voiced concern for what that might mean for the remaining staff especially in regards to their stress level, stating this is "cutting to the bone." Shaking his head, he forewarned, "This is going to be a difficult year. It's going to be a difficult year for our public and a difficult year for our staff."
The Board then approved sending out notices for all recommended personal actions including layoff notices.
Original post at 12:20 p.m.: Sonora, CA — The Tuolumne County Supervisors are discussing actions to eliminate what is currently projected to be a $2.6-million shortfall in the 2020-21 budget.
A preliminary budget must be approved by the end of this month, and the final budget will be voted on around September. You can find today's budget presentation by clicking here.
Key drivers to reduce costs include concession bargaining, department reorganizations, and later opening dates for the Library, Recreation Department, Youth Centers and Standard Park.
The CAO's recommended budget also includes eliminating eight full-time equivalent positions, furloughing 15.5 positions, and freezing the hiring of 23 (more details can be found in the presentation document).
During the morning portion of the meeting department heads detailed the impacts of the planned cuts, and then members of the public were given the opportunity to weigh in.
The supervisors have taken a break until 1:30pm when discussions will pickup again. Details regarding how to watch live video are below.