Solo Truck Rollover Slows Highway 49 Traffic In Mokelumne Hill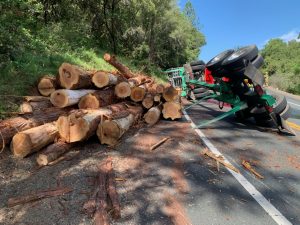 Overturned logging truck May 29 2020 CHP Photo

View Photo
San Andreas, CA — Expect delays on Highway 49 in the Mokelumne Hill area where a logging truck overturned in a midmorning traffic incident.
According to CHP San Andreas officials, the driver sustained minor injuries in the solo accident, which shut down the highway between Mokelumne and Electra Road within the 13 turns of the Jackson grade shortly after 10:30.
Currently, one-way traffic control continues as the truck and its load is recovered. However, officers will still be closing the roadway at times until those activities are complete. So avoid the area, if at all possible, or consider taking an alternate route.