Update: Essential Roadwork Plans To Continue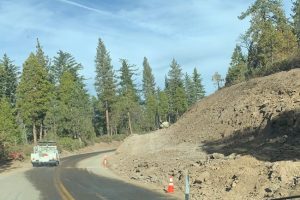 Slope work on HWY 108 up by Beardsley

View Photo
Update 3/30/20: Caltrans construction operations will continue modified operations amidst the COVID-19 virus pandemic.
Governor Gavin Newsom's Executive Order identified the transportation sector as a critical infrastructure sector. The State Public Health Officer specifically designated highway roadway, bridges and tunnels as "Essential Critical Infrastructure" to help state, local, tribal, and industry partners as they work to protect communities while ensuring continuity of functions critical to public health and safety, as well as economic and national security.
During this crisis, Caltrans will maintain all critical functions including roadway access to medical facilities and convenient transport of essential goods and services throughout the state. To that end, construction and maintenance projects vital to a fully functioning transportation system are currently moving forward.
Caltrans continues to closely coordinate with their contractors, and monitor information from the Centers for Disease Control and Prevention, the California Department of Public Health and others to ensure their practices are consistent with measures to help limit the spread of COVID-19 while carrying out essential operations. Contractors must contact the local public health service department for information concerning public health conditions within the area of their project. Additionally, contractors must have an Injury and Illness Prevention Program per CalOSHA.
Caltrans says, "It is imperative that everyone working on Caltrans projects take practical measures to minimize exposure and prevent transmission of the virus."
Caltrans is also implementing the use of teleconferencing and videoconferencing for meetings with contractors. When necessary to meet in person, they will use the practice of social distancing. There may be an impact to project schedules due to the necessary precautions. Any contractor who elects to discontinue construction operations due to supply chain disruptions or employee shortages shall submit a request in writing to the Resident Engineer. The contractor will be responsible for maintenance and water pollution control measures during the voluntary shutdown.
Caltrans further says "We pride ourselves as an industry in our ability to partner together to overcome tough challenges. Caltrans is committed to fully staff construction projects with State and consultant staff to fulfill our inspection and administrative obligations. As we work through this unique and difficult challenge together, we can continue to support California's economy, despite the challenges of COVID-19. If questions or concerns arise feel free to contact a local Resident Engineer, and they will quickly work with you to address them. Please stay safe and healthy."
Original 3/29/20: Caltrans has work scheduled this week that will delay travel in Tuolumne and Calaveras Counties.
On Highway 108 from Herring Creek Road to Beardsley Reservoir Road slope repair and clearing from Monday through Saturday will delay traffic 10 minutes. The work is scheduled between 7am and 7pm.
On Highway 120  utility work will close one of the lanes between Mountain Bluff Road and the Chinese Camp Railroad Crossing. The work is scheduled Monday through Friday from 8 AM to 5 PM.
Shoulder work on Highway 4 between Laskoff Place and Moran Road Monday through Friday will delay traffic for ten minutes. The work is scheduled between the hours of 6 AM and 6 PM.
On Highway 26 Tuesday and Wednesday be aware of scheduled tree work limiting traffic to one lane. The work is from the Calaveras/Amador County Line to South Fork Mokelumne River Bridge and will cause 5-minute delays from 8 AM to 3 PM.
On Highway 49 from Highway 4 to Copello Drive, a moving closure of one of the two lanes for road striping may cause 5-minute delays. The work is scheduled Wednesday and Thursday from 9:30 AM to 4 PM.
On Highway 49 Monday through Friday pavement repair from Sultana Lane to Lee Lane will limit traffic. The work is scheduled from 7 AM to 4 PM.
On Highway 132 be aware of shoulder work from the Stanislaus/Tuolumne County Line to Highway 49 scheduled for Wednesday through Friday from 8 AM to 3:30 PM. Slow for the cone zone as crews will be working on the left and right shoulders of the road.
These road projects are subject to change due to traffic incidents, weather, availability of equipment, and/or materials and construction-related issues. Caltrans asks motorists to obey signage and flaggers while slowing down around crews and equipment in the cone zones.