Update: Calaveras Now Counts Three Coronavirus Cases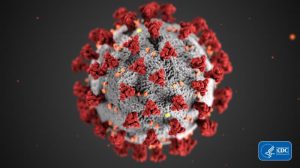 ultrastructural morphology exhibited by corona viruses

View Photo
Update at 6:36 p.m.: After updating Calaveras County's three coronavirus cases, Health Officer Dr. Dean Kelaita issued a clarifying order closing nonessential lodging.
Following a media conference, Dr. Kelaita released the order, which provides guidance to businesses providing accommodations within the county. Into it he incorporated the latest directions from the Governor's and State Health Officer's "Stay At Home" Order that ban nonessential travel and layout the various industry sectors, jobs and functions deemed essential to continue operating.
Regarding short-term lodging facilities including hotels, motels, condominiums, campgrounds or other units, Kelaita states that only those providing "necessary" functions may remain open on a limited basis.
These specifically include those solely in use for isolating or quarantining persons exposed to or infected with COVID-19, housing displaced persons such as the homeless, and housing workers performing jobs deemed essential to maintaining critical infrastructure.
The order, which takes immediate effect, states that short-term lodging facilities not specifically in use for the above-described activities may not continue to operate until further notice.
The Latest COVID-19 Case
As reported further below, earlier in the day, Calaveras County Public Health shared that a Valley Springs resident had tested positive for the virus while being cared for in an out-of-county hospital, which reported its finding to Calaveras health officials.
Sharing the latest details Kelaita states, "This does not appear to be a case of community transmission because this individual appears to have traveled outside of our county during the two weeks — before the onset of their illness — for business reasons. They traveled in Southern California and in a neighboring state extensively during the time that they would have been exposed to this."
He continues, "The matter of who else the person may have been exposed to after they became contagious is still a work in progress. So we have a contact list of Valley Springs area individuals…and we are in the process of contacting them and asking them a set of detailed questions to try to understand the nature of their contact. They would then need to quarantine themselves for 14 days during which if they develop symptoms, we can facilitate testing for them."
Asked about the condition of the two coronavirus cases still recuperating in Copperopolis, the doctor reports they are both doing better but still have symptoms and so they remain in isolation.
Queried about an earlier comment in which he indicated more cases are probable, Kelaita points to the latest announcement indicating that the U.S. is now the country with the most cases and the outbreak is continuing to accelerate.
"For that reason, I would not be surprised to see that work its way into some of the smaller counties in California such as the foothill communities," he surmises.
The best chance to locally manage the outbreak continues to be heeding public health guidance. He stresses, "If we can stay put, stay at home, isolate ourselves, stay out of group gatherings, especially people who are at higher risk…that mode of breaking transmission through implementing these social distancing measures …is a proven activity in public health to delay and even prevent disease transmission like this."
Original Post at 2:02 p.m.: San Andreas, CA — Calaveras County Public Health officials are reporting another COVID-19 case.
This brings the total number of novel coronavirus cases in the county up to three.
This latest test-positive case is described as a Valley Springs resident who is currently receiving care outside of the county.
Officials share that immediately after being notified, Calaveras Public Health launched a case investigation and staff are now working to identify persons who may have had close personal contact with the person, including any friends, family members or healthcare professionals, to assess and monitor them for signs and symptoms of COVID-19 illness. Close personal contacts identified during the investigation will be placed under quarantine.
Calaveras Public Health will be continuing to monitor developments and release information as it becomes available.
Health Officer Dr. Dean Kelaita says it is expected that further cases of COVID-19 infection will be identified in Calaveras residents. Residents are reminded to comply with Governor Gavin Newsom's statewide order to stay at home, avoid all gatherings, non-essential travel, and practice social distancing. People 65 years of age and older and those with chronic health conditions are at high risk of serious illness from COVID-19 are advised to stay home, even if they do not have the virus.
Social/physical distancing helps stop or slow down the spread of disease like COVID-19, so maintain at least six feet of space between people and avoid close contact with anyone who is sick.
